Wines From Around The World:
Collier's staff prides themselves on their wine knowledge and extensive selection. Simply put, Wine is our passion! Our ever-changing inventory consists of wines from California as well as many countries around the globe. Whether you're in search of a Malbec from Argentina, a Chianti from Tuscany, Spanish or Portuguese wines or Bordeauxs and Sancerres from France, Collier's is the place to find what you're looking for. Stop in today and let our staff turn the often-confusing task of wine buying into a pleasurable and knowledgeable experience. Every customer's complete satisfaction is our ultimate goal!
-Reid Levin Wine Manager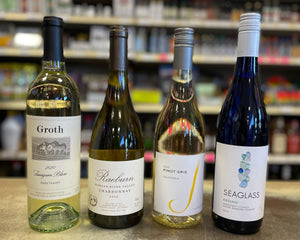 American White Varietals:
Chardonnay, Pinot Gris (Grigio), Riesling, Sauvignon Blanc, & MORE!
American Red Varietals:
Cabernet, Merlot, Petite Sirah, Pinot Noir, Red Blends, Syrah, Zinfandel, & MORE!
Oregon Varietals:
Pinot Gris, Pinot Noir, & Riesling
Imported Wines:
Argentina, Chile, France, Italy, New Zealand, Portugal, South Africa, Spain, & MORE!